About Us
Company History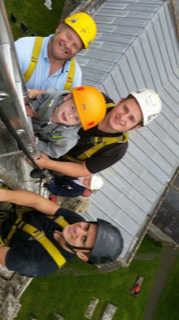 Established in 1837 in Pudsey, Yorkshire, the family first travelled to the South West when they went to Cornwall in the early 1900's to build the tin mine chimneys.
Once these were completed the family decided to stay in the area and moved to Somerset to build the coal mine chimneys.
Some of our chimneys can still be seen in Cornwall although many were built and demolished within one generation due to the speed at which the industry was growing and changing.
At the moment the fourth, fifth and sixth generation of our family work side by side in the current business. Oscar and Bobby (and just at the moment a little too young to join the business!), but it is hoped that they will take the reigns as the seventh generation of Dawson's and take the business forward as his father and grandfather did.
We train our engineers to the high standards and we have the following accreditations:
ATLAS - The association of Technical Lightning & Access Specialists
CHAS
EXOR
Constructionline
SAFEcontractor
Exeter Green Accord

Our Values
Our values come from the fact our business is family owned and run with a heritage and history in this field which is second to none. We pride ourselves on our commitment to our customers and being able to offer the full range of steeplejack services to accommodate your needs.
Our Team
We have a small team of engineers highly skilled in the installation and maintenance of lightning conductor systems. These skills include CSCS NVQ2, Asbestos awareness, working at height, radiodetection, CRB enhanced, First aid, manual handling, health & safety, IPAF training, Pasma training, Irata training.